Stanley Carroll launched his first fashion collection in 1983, and has since gone on to design both mens and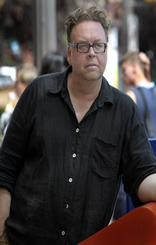 womenswear collections that have been marketed across North America and Europe. With a design concept based heavily on a creative and distinct look, he has garnered a great deal of critical acclaim and an intensely loyal following. Stanley continues to create clothing that reflects a handcrafted aesthetic, which he sells through national and international popup shops and online marketing campaigns.
We don't do collections in a conventional way. The design process is on-going, so what that means is that there constantly will be new styles and different fabrics stories.
Sustainability is an often used term these days, but for our design it is something we have always felt strongly about.  Our production is small scale through a group of home sewers or small Canadian-based contractors.  Fabrics are hand cut, therefor wastage is at an absolute minimum.  We also do grouping referred to as "patchwork" where we use leftover smaller pieces of fabric and create one of a kind pieces from them.
Along with it is a desire to create pieces that are timeless.  We hear over and over from clients that they still wear pieces that were purchased year and years ago. Because of this small scale, hands-on process from start to finish we can allow for client input in terms of size requirements or minor style variations.
True designer clothing as it should be.