Stanley Carroll launched his first fashion collection in 1983, and has since gone on to design both mens and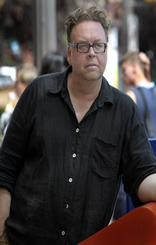 womenswear collections that have been marketed across North America and Europe. With a design concept based heavily on a creative and distinct look, he has garnered a great deal of critical acclaim and an intensely loyal following. Stanley continues to create clothing that reflects a handcrafted aesthetic, which he sells through national and international popup shops and online marketing campaigns.
We don't do collections in a conventional way. The design process is on-going, so what that means is that there constantly will be new styles and different fabrics stories.
We don't do mass production what that means is that when you see one of our pieces you can order it in whatever size required, the price stays the same unless you upgrade to a more expensive fabric. Generally the whole process takes about 2 weeks.
Contact us if you want to be put on the mailings list and we will let you know the dates and locations of our next pop up location.
For the date and location of our next pop up go to events.